Vanilla, The New Cocaine?
As there has been an ongoing excessive Vanilla shortage since 2014, the prices of a special Vanilla extract I'm using in Stardust (and also in many other fragrances, but in lower amounts) has gone up from 5 € to 78 € per gram.
Which means that this extract is more expensive than Cocaine and twice as expensive as gold.
This is an increase over 1500%, in words: FIFTEEN THOUSAND PER CENT!!!
And even at that price, there is no more stock available.
As the prices skyrocketed within the last four years, I lowered my own (btw quite humble) margin instead of raising the prices. But this isn't possible anymore as the dimensions are getting surreal.
I managed to weave in another very pricey, but still available Vanilla extract into some of my other perfumes, but with Stardust, there is no way of substituting this special extract without changing the scent too much.
So there is no way out of finally raising the prices and sending out a warning that the remaining stock of a few bottles is VERY limited and will soon be gone and discontinued until a miracle happens. The smaller bottles (15 and 32 ml are already out of stock). Sorry Folks!
For further Information on the Vanilla issue I recommend this article.
A Lovely Photo...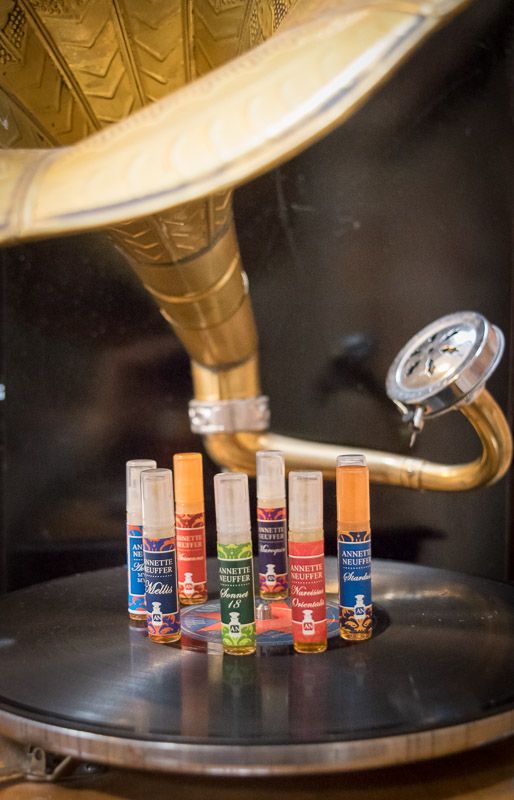 by a lovely Lady!
Plus a short and fab Review of Avicenna Myrrha Mystica:
"Upon spraying I smell rose, myrrh and beeswax, deep and sweet with a little fresh, green twang from the petitgrain and citrus. As it warms on my skin the cinnamon and a little cardamon show themselves along with more resins and creamy sandalwood - everything starts to warm up and becomes richer - oh yes, the richness in this perfume is gorgeous, it's intoxicating. I'm carried away into my own imagined realms of history; the silk roads and spice routes, European castles with exquisite gardens. Avicenna Myrrha Mystica speaks to me of Medieval courtly opulence, beauty, splendour and warmth. Who would smell like this - a Lady in fine velvet, with a benevolent smile, much loved by her courtiers. She is being serenaded by the sweetest troubadours in the land and the warm evening breeze carries the scent of roses from the gardens. They are subtle but deep, red velvety roses couched amongst rich balsamic incense resins and dusted with exotic spices.
This is the stuff that perfumed dreams are made of and I really want it in my collection."
Thank you so much Polyanthes on Fragrantica
Narcissus Orientalis...
...seems to become a new hit and some first reviews are chiming in:
By Polyanthes on Fragrantica, thank you very much!!!
I feel like I've fallen into a fantastical dream. ... A White Floral Gourmand - heady and indolic, creamy and narcotic narcissus with a gloriously pongy, and yes, chewy beeswax base - SWOON If I try hard enough I can pick out most of the wonderfully high quality ingredients, but I'm not so interested in dissecting this one - I just want to lounge around all day, reapplying Narcissus Orientalis every couple of hours for the amazing indoles in the opening and the gorgeous pongy little furry animal beeswax dry down. I feel like I've fallen into a fantastical dream; I'm having tea with giant fuzzy bees and pollen dusted butterflies, we're feasting on nectar and funky, chewy beeswax fresh from the hive. We're enjoying our spoils so much and, distracted by our orgiastic gluttony, we don't realise we're being enveloped by mounds of sweet narcissi, smothered beneath their fragrant, heavy petals. What a wonderful way to go!
"Kopfverdreher, Herzensräuber, Friedensbringer. Schwebende Schönheit in Vollendung."
Very Special thanks to 0815abc, Parfumo